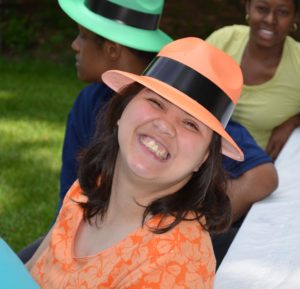 Our founding parents in 1949  knew their children could learn and started Mentally Retarded Children's Aid (MRCA) to provide classroom education for their children. They later changed the name to Seguin RCA in honor of Edouard Seguin, a 19th century French physician, known for his work in Europe and the United States with children with learning disabilities.
After Congress passed the Americans with Disabilities Act in 1990, and children with disabilities were enrolled in public schools, our founders realized there were no supportive services after their kids left the school system. SRCA exists today to create and share joyful experiences with our participants, who range in age from 22 to 75!
In our 68 years, thanks to loving parents, a committed board of directors and passionate volunteers, we have served thousands of adults with disabilities and their families, through life-enriching social and recreational programs. We provide a caring and compassionate environment in Berwyn, IL and at Camp at the Farm, in Winnebago, west of Rockford, IL. We provide quality activities – art, music, summer and respite camp, bowling, seasonal parties and lots of fun – for friends to get together and enjoy life.
Camp at the Farm is home-away-from-home for our campers! Situated in a peaceful, farm area, camp is where friends come together to enjoy sports, games, arts, crafts, equine therapy, swimming, music and s'mores! It's also  "respite camp" so caregivers and families can plan vacation time away from the responsibilities of their loved ones.
Thanks to our generous donors, we are able to offer "camperships" for those from families in need, which is really most of our clients. We also offer annual scholarships to college-bound high school students planning to study or work in areas serving persons with developmental disabilities.